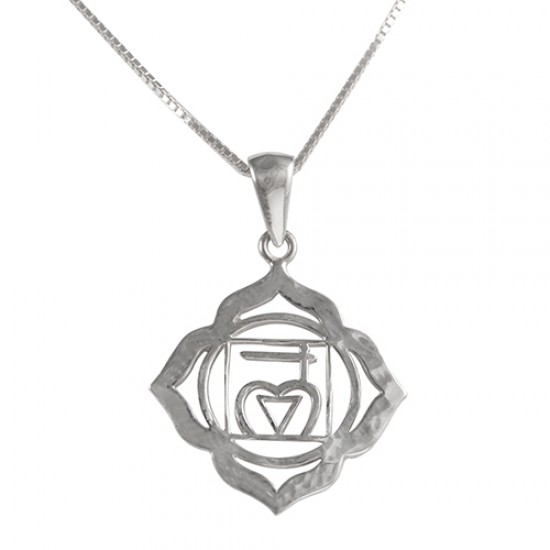 Muladhara - Root Chakra Pendant
A beautiful hammered sterling silver representation of the Muladhara chakra.
The 7 chakras are swirling 'wheels' of energy arranged along the spine, through which invisible prana (life force energy) flows. When the chakras are open and healthy, the body and mind are also healthy.
MULADHARA is known as the root chakra and is located at the base of the spine. It represents grounding to the Earth and connection with our physical body. It relates to instinct and survival - think security, stability and financial independence. A healthy root chakra is characterised by courage, confidence and self awareness. Muladhara is where we ground the life force energy in our body.
This pendant measures 27 mm in diametre. Chain sold separately.
We don't take payment through the website.
Instead, once your order is submitted we'll contact you via email or phone with your pro forma invoice.
We'll provide you with a branded satin pouch and information card for every item you order.
We'll ship your order in an Express Post satchel via Australia Post, unless we have communicated to arrange otherwise.
The cost of shipping your entire order is AUD $12.70
For larger, bulky orders the cost of shipping is AUD $16.75
Upon your request, we can add the signature on delivery service for an extra cost of $6
| USA | Australian | Inside Diametre (mm) |
| --- | --- | --- |
| 6 | L ½ | 16.5 |
| 6.5 | M ½ | 16.9 |
| 7 | N ½ | 17.3 |
| 7.5 | O ½ | 17.75 |
| 8 | P ½ | 18.2 |
| 8.5 | Q ½ | 18.6 |
| 9 | R ½ | 19 |
| 9.5 | S ½ | 19.4 |
| 10 | T ½ | 19.8 |
| 10.5 | U ½ | 20.24 |
| 11 | V ½ | 20.66 |
| 11.5 | V 4/5 | 21 |
| 12 | X ½ | 21.5 |
| 12.5 | Y ½ | 21.9 |
| 13 | Z +1 | 22.3 |
| 13.5 | Z +3 | 23 |
| 14 | Z +4 | 23.5 |