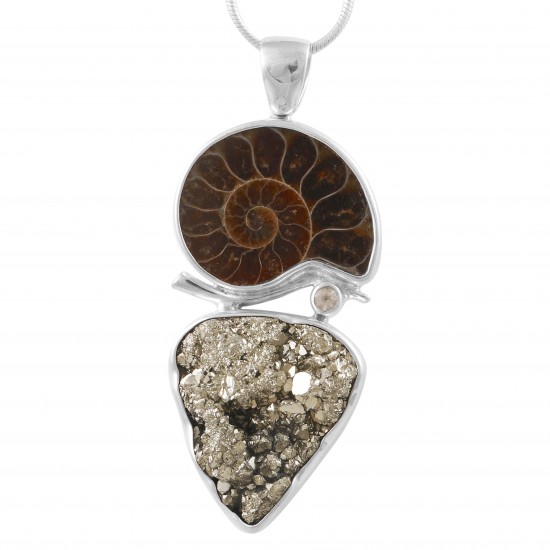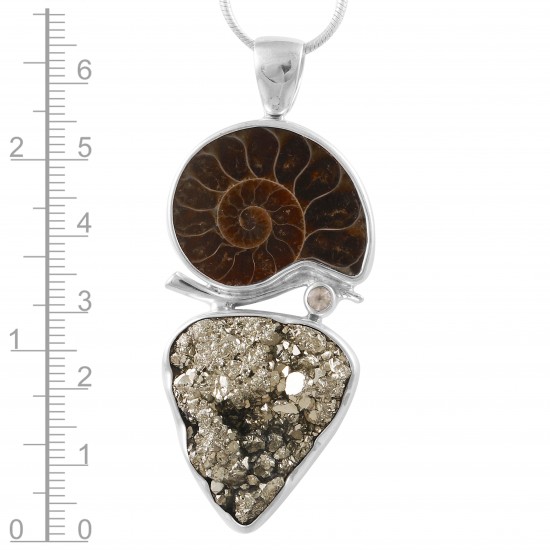 Ammonite & Pyrite Pendant
This is a calcite based fossilised ammonite from Madagascar set with Pyrite from Peru.
Between 65 million and 250 million years ago, the ammonites ruled the seas. These once very common cephalopods have since slipped into extinction, but in many cases, their shells survived long enough to be fossilised, leaving us with these beautiful, perfect spirals.
Ammonites are said to help reveal past life and karmic issues, and lend the stability required to work through those issues.
They also engender a strong sense of structure and instinct.
Read our excellent article about ammonites in our Crystal Fact Files here.
Pyrite, also known as iron pyrite or fool's gold, is an iron sulfide.
Pyrite derived its name from the Greek word for fire, because it creates sparks when struck.
Pyrite is a powerfully protective stone, patching leaks in ones aura, shielding one from negativity and danger, and reportedly from environmental pollutants and some infectious diseases. It is a crystal for overall health and wellbeing.
Pyrite is connected to and energises the Solar Plexus chakra, the centre of ones will. It engenders feelings of positivity, self-confidence and assertiveness, and helps increase vitality and stamina – it is a useful tool for one who is engaged in complex business dealings.
Pyrite enhances ones memory and mental capabilities whilst supporting creativity and intuition, bringing these two polar opposites into balance. This makes pyrite a practical manifestation stone.
We don't take payment through the website.
Instead, once your order is submitted we'll contact you via email or phone with your pro forma invoice.
We'll provide you with a branded satin pouch and information card for every item you order.
We'll ship your order in an Express Post satchel via Australia Post, unless we have communicated to arrange otherwise.
The cost of shipping your entire order is AUD $12.70
For larger, bulky orders the cost of shipping is AUD $16.75
Upon your request, we can add the signature on delivery service for an extra cost of $6
| USA | Australian | Inside Diametre (mm) |
| --- | --- | --- |
| 6 | L ½ | 16.5 |
| 6.5 | M ½ | 16.9 |
| 7 | N ½ | 17.3 |
| 7.5 | O ½ | 17.75 |
| 8 | P ½ | 18.2 |
| 8.5 | Q ½ | 18.6 |
| 9 | R ½ | 19 |
| 9.5 | S ½ | 19.4 |
| 10 | T ½ | 19.8 |
| 10.5 | U ½ | 20.24 |
| 11 | V ½ | 20.66 |
| 11.5 | V 4/5 | 21 |
| 12 | X ½ | 21.5 |
| 12.5 | Y ½ | 21.9 |
| 13 | Z +1 | 22.3 |
| 13.5 | Z +3 | 23 |
| 14 | Z +4 | 23.5 |