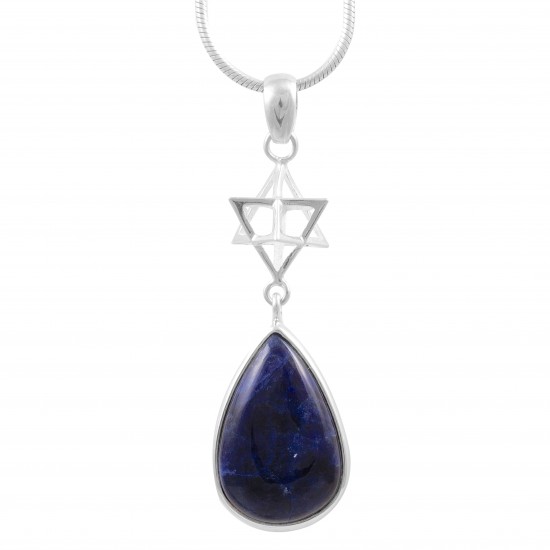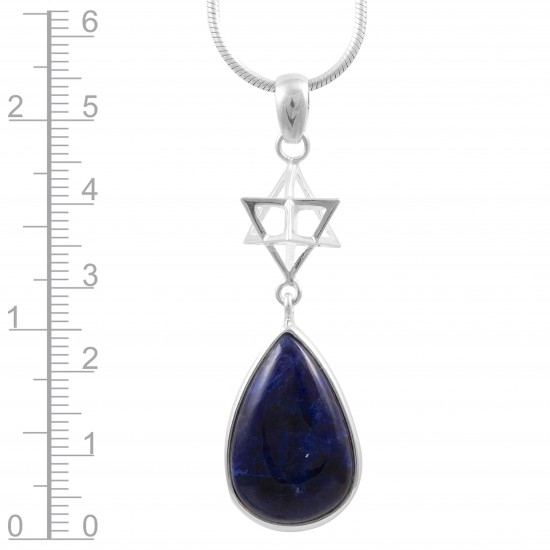 Sodalite & Merkaba Pendant
Sodalite is a sodium rich silicate mineral found in igneous rock.
Sodalite engenders a sense of calm and inner peace and helps one to release old patterns.
Sodalite inspires confidence to speak in public.
It stimulates the Third Eye, helping to sharpen intuition and develop latent psychic abilities.
Academics and philosophers will find that sodalite helps one to develop a deeper understanding of the principles of things.
Likewise, sodalite assists us to better understand our own deepest motivations, supporting us to live life true to our selves. Consequently, we are more likely to live by our intuition and with self-discipline.
The Merkaba, or Star Tetrahedron, is a spiritual concept represented by a 3-dimensional Star of David - two interlocking triangular pyramids symmetrically aligned, with one pointing up and the other inverted.
The Merkaba is the light body – a great field of energy surrounding each of us, which extends beyond our etheric field and maintains the star tetrahedron geometric pattern. When activated, the two pyramids spin at immense speed in opposite directions and the energy field generated extends up to 10 metres from our bodies, but also expands into all possible dimensions and parallel universes. It is explained that when we activate the Merkaba, all possibilities are open to us, including limitless travel within and between dimensions, and ascension to the highest realms.
The perfectly integrated pyramids of the Merkaba, pointing and spinning in opposite directions, embody the perfect equilibrium of opposites, be it of Heaven and Earth, Male and Female, duality and Oneness.
We don't take payment through the website.
Instead, once your order is submitted we'll contact you via email or phone with your pro forma invoice.
We'll provide you with a branded satin pouch and information card for every item you order.
We'll ship your order in an Express Post satchel via Australia Post, unless we have communicated to arrange otherwise.
The cost of shipping your entire order is AUD $12.70
For larger, bulky orders the cost of shipping is AUD $16.75
Upon your request, we can add the signature on delivery service for an extra cost of $6
| USA | Australian | Inside Diametre (mm) |
| --- | --- | --- |
| 6 | L ½ | 16.5 |
| 6.5 | M ½ | 16.9 |
| 7 | N ½ | 17.3 |
| 7.5 | O ½ | 17.75 |
| 8 | P ½ | 18.2 |
| 8.5 | Q ½ | 18.6 |
| 9 | R ½ | 19 |
| 9.5 | S ½ | 19.4 |
| 10 | T ½ | 19.8 |
| 10.5 | U ½ | 20.24 |
| 11 | V ½ | 20.66 |
| 11.5 | V 4/5 | 21 |
| 12 | X ½ | 21.5 |
| 12.5 | Y ½ | 21.9 |
| 13 | Z +1 | 22.3 |
| 13.5 | Z +3 | 23 |
| 14 | Z +4 | 23.5 |